What's a house concert?
Welp, it's exactly what's on the label: a live music performance that happens in a private home.

It's an intimate and immediate way to experience live music, and you get to share that experience with other cool people who are there to listen.

You get some time to hang out with the audience and the artists, with the accompaniment of complimentary drinx and snax.

Very cool, right?
Okay, what are YOUR concerts like?
We try to offer a wide range of music genres—blues, folk, classical, traditional; acoustic or boosted; soloists or small ensembles—and we love to get suggestions!

Most concerts happen on a Saturday or Sunday evening at 7:30 (sometimes 4:30 instead).

Come a half hour early for complimentary refreshments and hanging out with other guests.

Performances are usually two 40-45 minute sets with a 20-minute break in the middle—refresh yourself and your drink!

Everybody's welcome to hang out for a bit after the show—always great to chat with the artists, right?

There might be merch from the artists; could also be some cool crafts or artwork for sale by our talented pals.
Who are you?
Corner House Concerts offers live performances five-six times a year.

Our 150-year-old neo-Gothic Victorian house was once called the Corner House.

We got started in the fall of 2020—this is our second season, woohoo!

The humans are Rebecca & David Thornburgh, musicians/singers & lovers of all kinds of music

The doggos (who are generally not invited to the concerts) are Nemo & Typo

Our living room is a perfect space for performances of all types of acoustic and (smaller) amplified music.

We have seating for about 35 chairs and a handful of standing spaces.

We have a pretty decent upright piano, a soon-to-be tuned handcrafted harpsichord, a good PA system, a marble fireplace, a trompe l'oeil ceiling, and a lot of twinklights.
Where are you?
The Corner House sits on a corner in the Chestnut Hill neighborhood of northwest Philadelphia.
Do I need to buy a ticket?
Nope, but you do need to register in advance because space is limited.

Each event listing has a link to its own google signup form—fill it out to get a confirmation with directions and parking info.
Okay, but how much does it cost?
It's up to you!

We ask our guests to make a contribution of some amount of their choice. $15 or $20 person seems about right to us.

All the $ goes, with our big thanks, to the performing artists.

You can throw some cash into the basket the night of the show, or you can Venmo us anytime!
What are you doing about Covid?
We follow Philadelphia's guidelines for public gatherings.

Our artists are all fully vaccinated and will not wear masks during their performance.

No need for guests to show proof of vaccination, though we strongly encourage everyone to get vaxxed and boosted.

We'll address our masking requirement for each event in the upcoming season; be assured that we will keep you up to date as things develop/change.
Can I perform at Corner House Concerts?
Thanks for asking!

We're thrilled that lots of people have checked in to ask about performing

right now we're planning only five or six events a year

we want to offer a variety of genres and ensembles

let us know who you are and what you do (links to recordings are super helpful)

we'll be in touch when we can
Yeah, but I actually have more questions! What should I do?
Text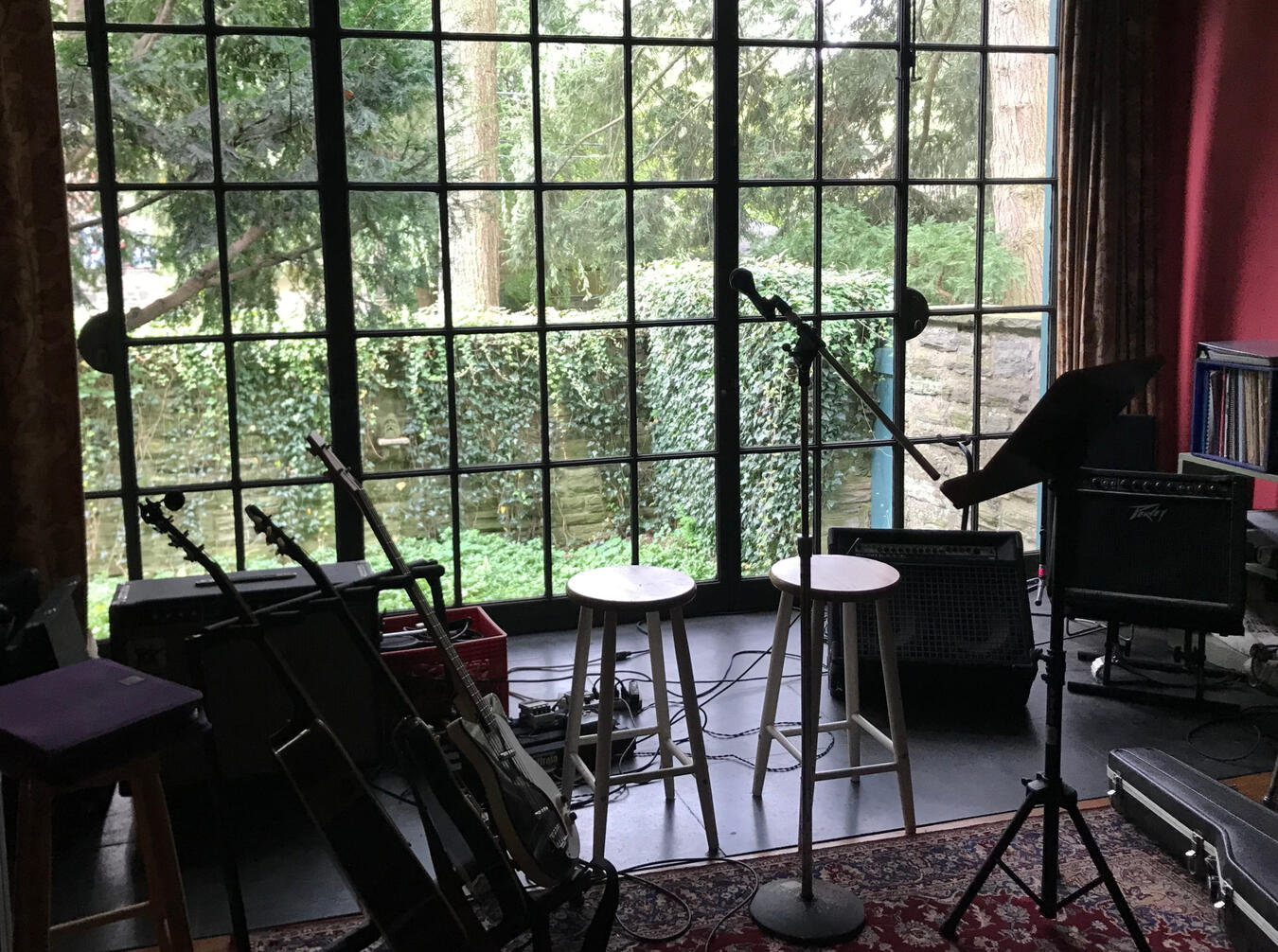 We all need more live music in our lives, right?We invite you to The Corner House for an intimate experience of music of all types. We've got some truly spectacular concerts coming up, and we're making plans for more!Check out our schedule for events in our SECOND SEASON!Concerts last about 90 minutes, with a 20-minute break. Come a little early for snacks and drinks. We ask only that you make a free will donation—amount is up to you, but we think $15-$20 sounds about right, right? All that loveliness will go, with our big thanks, to the performers.Stay tuned and stay in touch by joining our mailing list.And if you're a musician who'd like to perform, we'd love to hear from you!
Text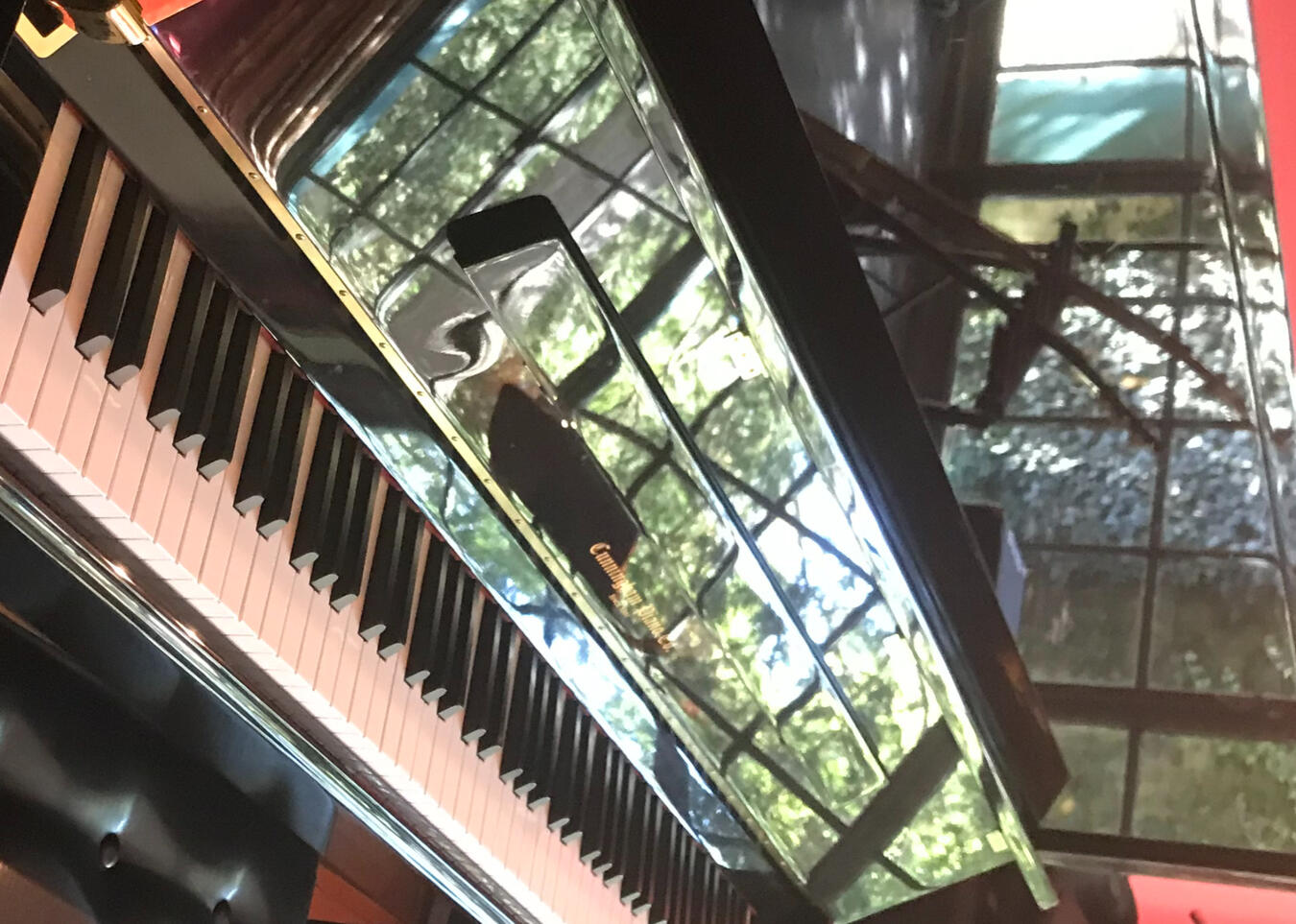 Here's where we share good news about things musical—so let us know what's going on in your musical world!MARY AMATO SONGWRITING WORKSHOPS
The accomplished and extremely wonderful singer/songwriter, author, and teacher Mary Amato offers terrific online classes—learn moreMore about Mary's music
Text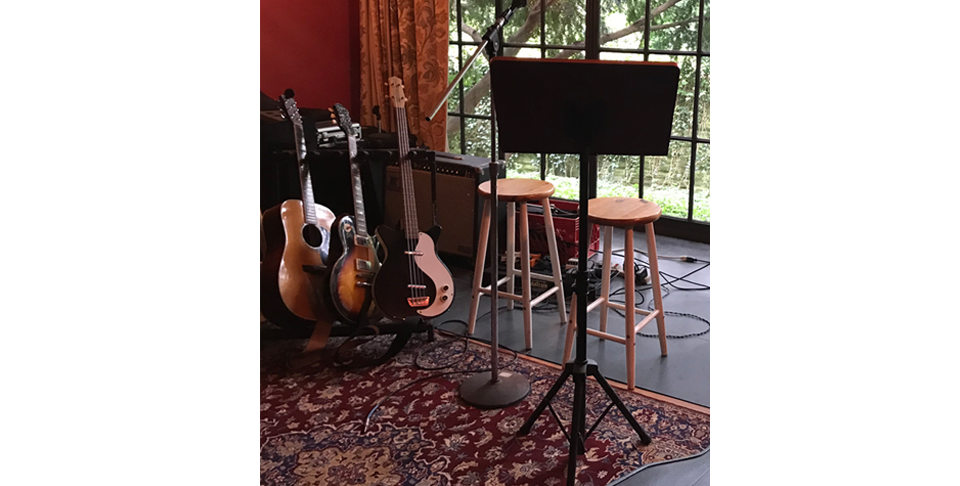 ---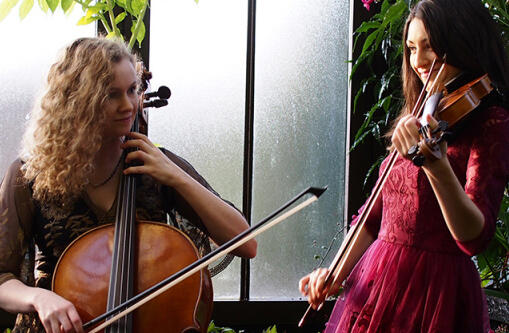 ---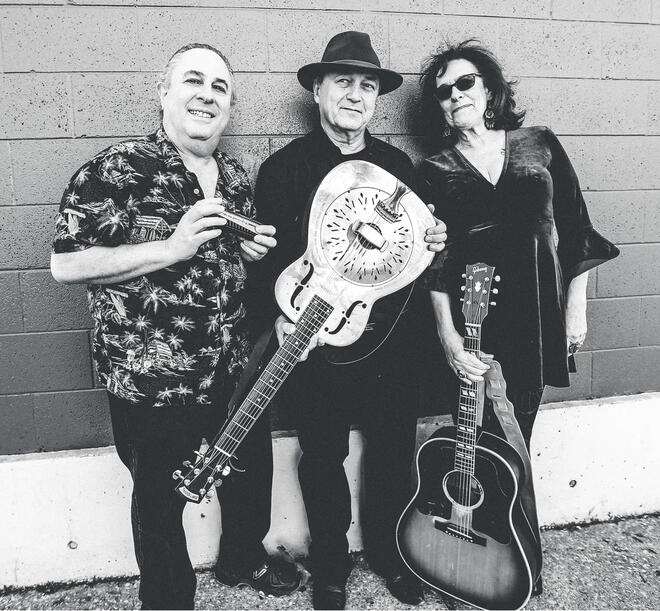 SATURDAY, OCTOBER 22 | STEVIE and THE BLUESCASTERS
7p doors open | 7:30p music**
A Philadelphia acoustic blues and roots trio, Stevie and the Bluescasters play unique arrangements of all kinds of blues (Chicago, Delta, Piedmont, folk, country) mixed with some international styles, some old gospel and old country, with a pinch of R&B thrown into the mix.what an awesome combination of great stuff—more deets heresample some of the Bluecasters' excellent music
---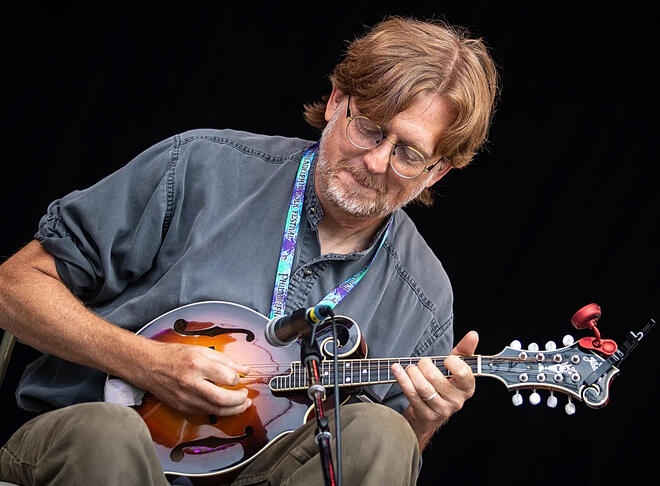 ---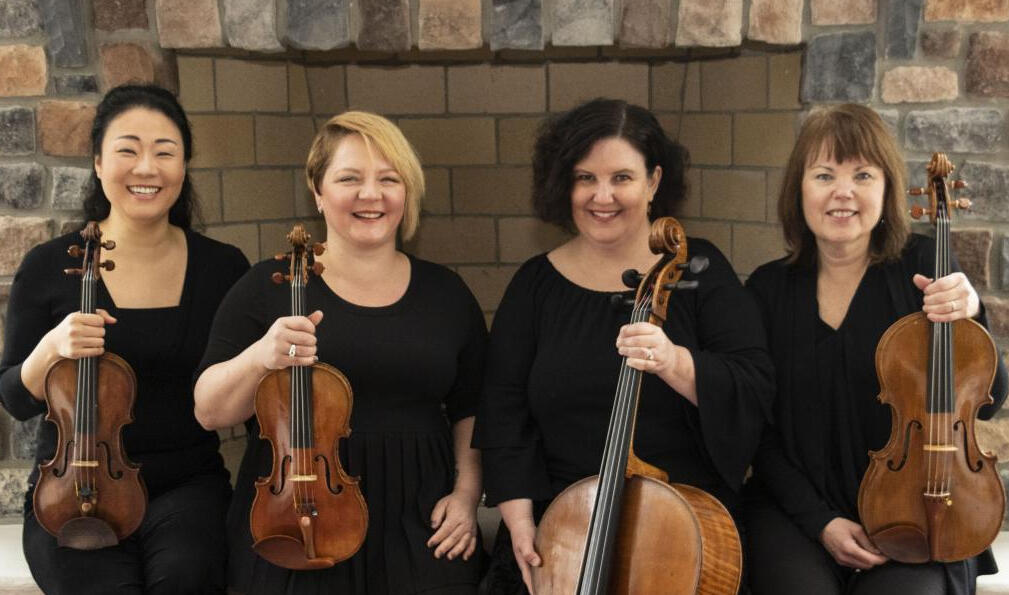 ---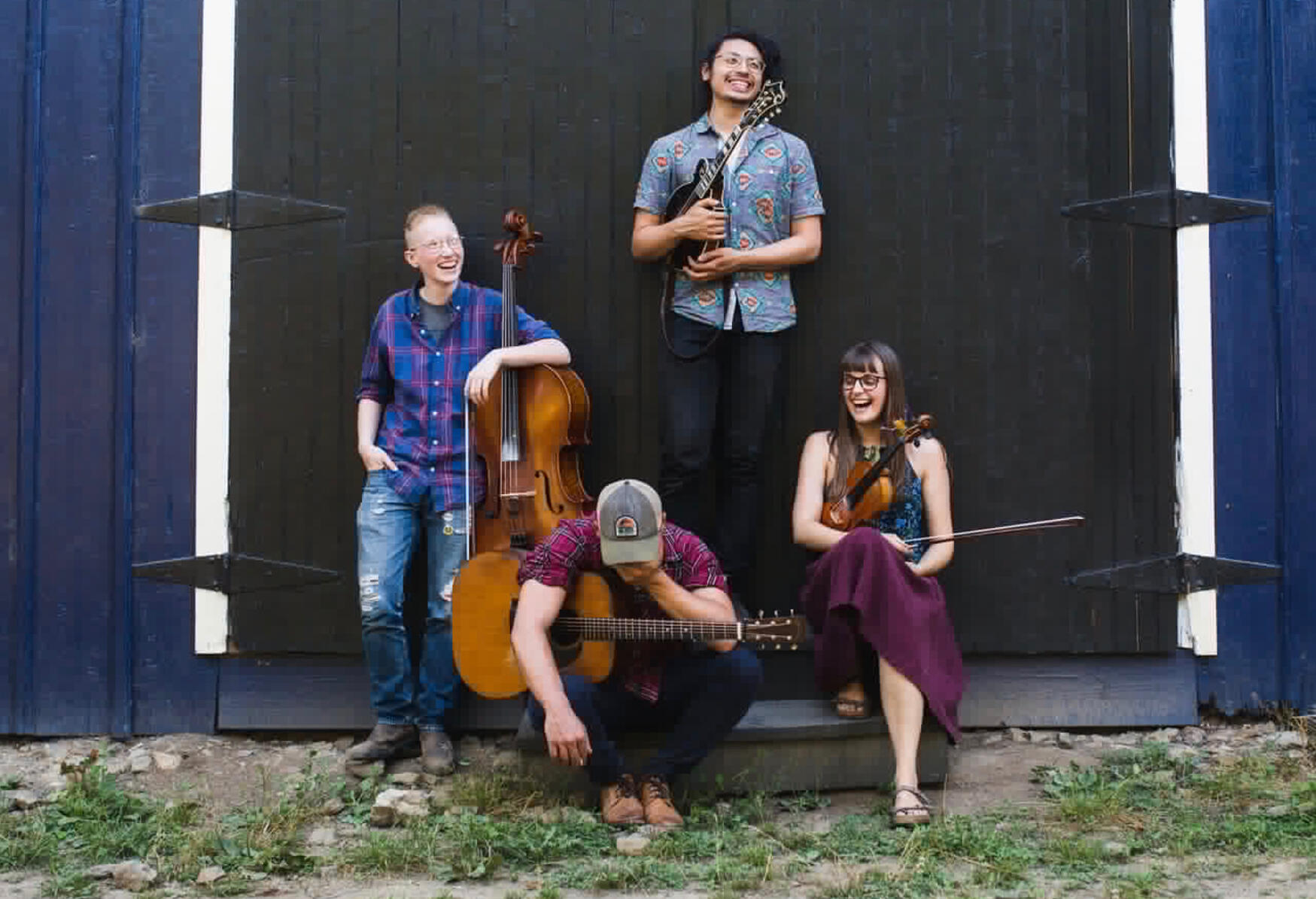 SATURDAY, FEBRUARY 11 | CORNER HOUSE
7p doors open | 7:30p music
Very psyched to announce the date for CORNER HOUSE!learn more
---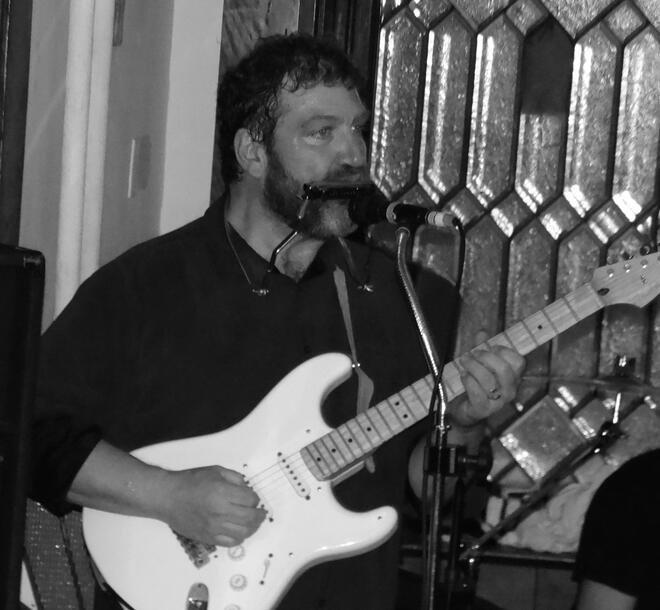 UP NEXT!
SATURDAY, MARCH 25 | MIKE ALBRECHT & THE KELTONES
7p doors open | 7:30p music
Versatile and accomplished player Mike Albrecht convenes The Keltones to bring you a unique musical groove infused with traditional Irish, blues, jazz and funk.
SATURDAY, MARCH 25 | MIKE ALBRECHT & THE KELTONES
7p doors open | 7:30p music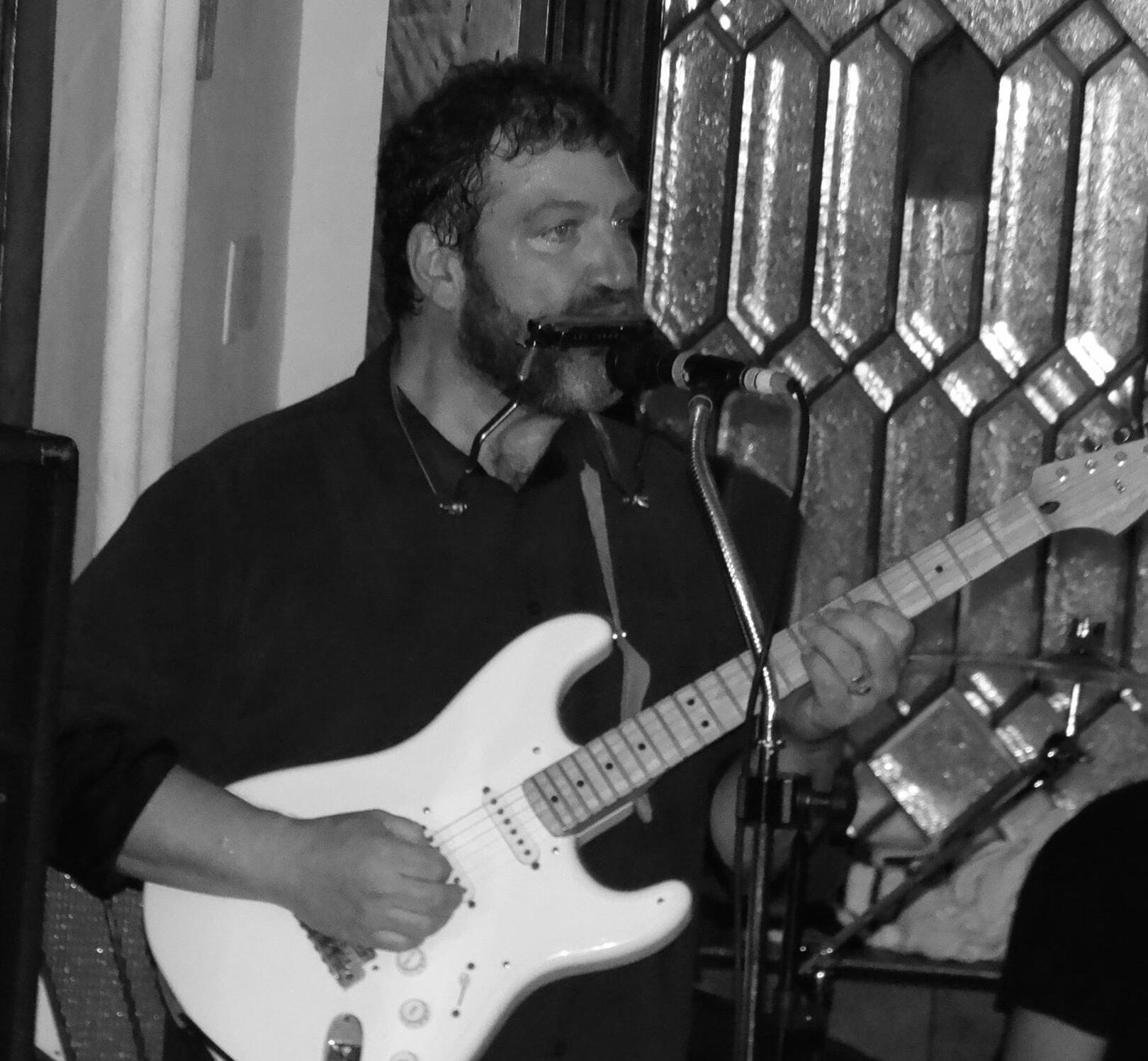 Versatile and accomplished player Mike Albrecht convenes The Keltones to bring you a unique musical groove infused with traditional Irish, blues, jazz and funk.
check out this brilliant moment with Philly Jazz Ellliott Levin
lovely notes from Mike and friends at an Irish session
---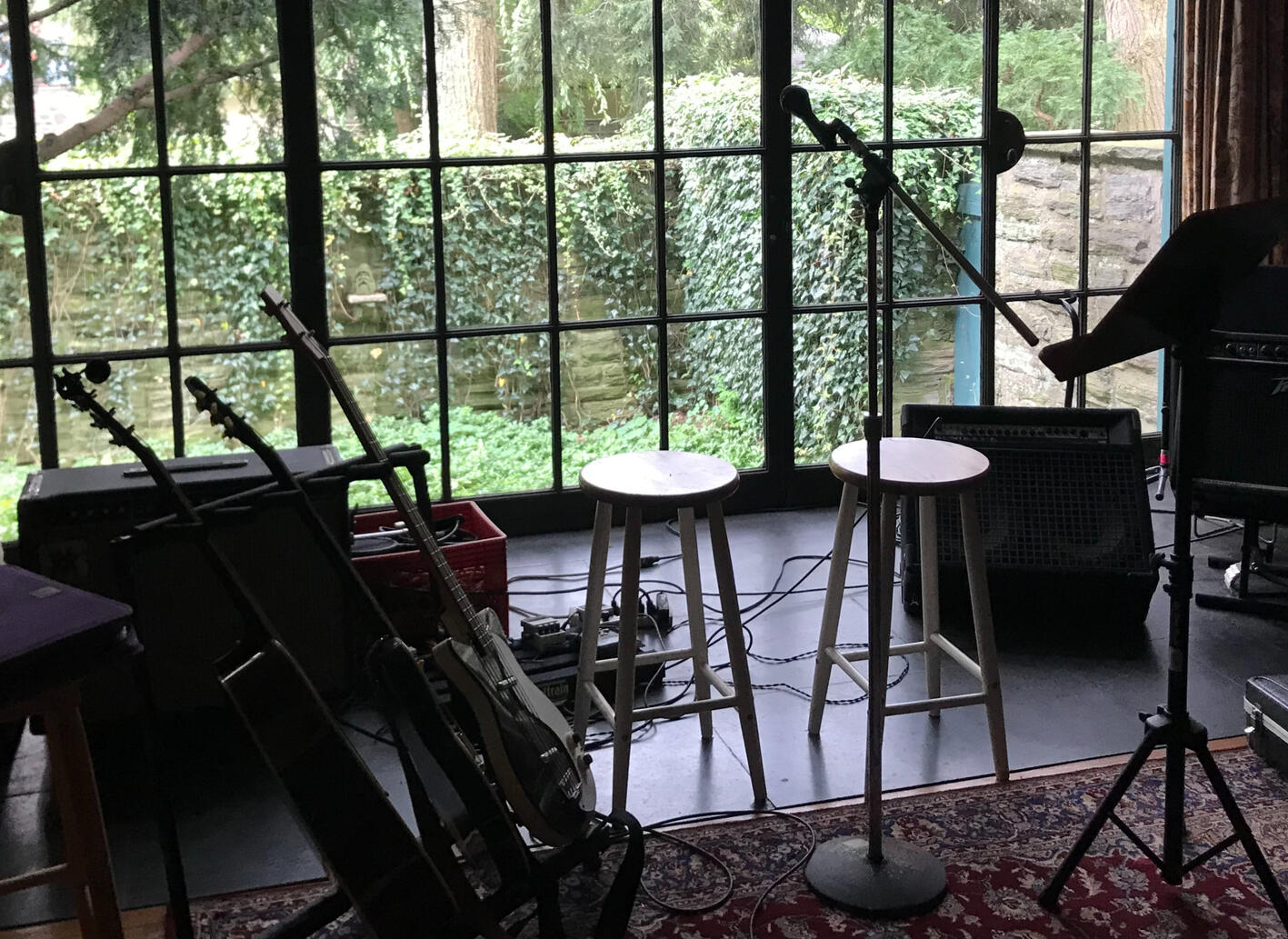 Working on plans for another show or two to round out our second year! Stay tuned for news of more excellent music!

Questions? Thoughts? Ideas? Want to perform at The Corner House? We're here for all of that.
Text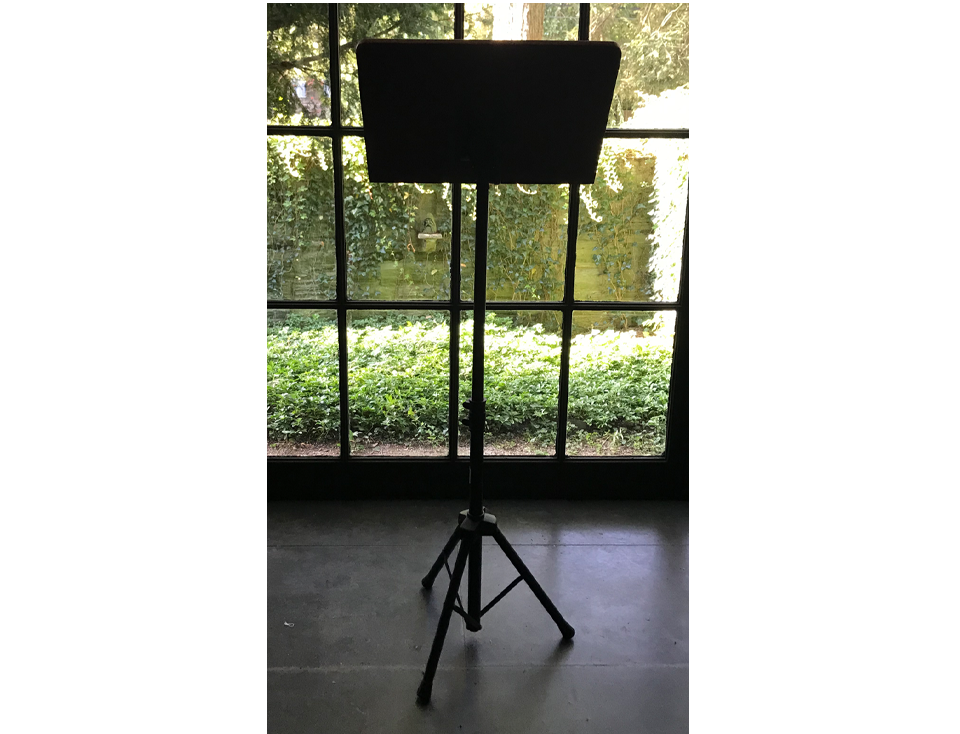 Hey, if you're a musician who'd like to offer a performance at Corner House Concerts, we'd love to hear from you!We're interested in presenting music of all types and genres—from traditional to classical, singers and instrumentalists together or solo.Our space will accommodate up to four or five—okay, really six or seven—performers. We have a very good upright piano, and we can set you up with mics and speakers.We ask you to offer two 40- or 45-minute sets with a short break. Scheduling is flexible, though we prefer to plan for late afternoons on Sundays.Corner House Concerts will ask audience members for a free will donation of $15-20, with all that loveliness going to you and your fellow performers.We're just getting started here, but we're sure we can offer you a great experience performing for people who love live music.Looking forward to hearing from you!
Text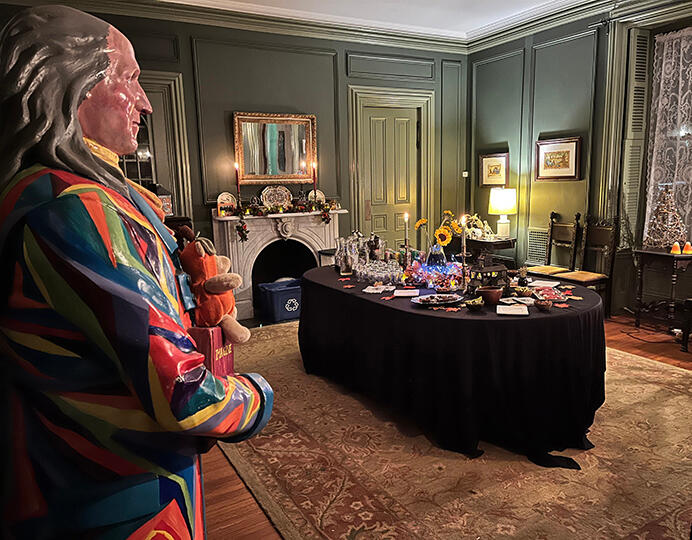 If you love live music and want to hear about great performances offered by Corner House Concerts, please join our mailing list. We promise not to bug you in any way except to let you know when there's new music coming soon.
Text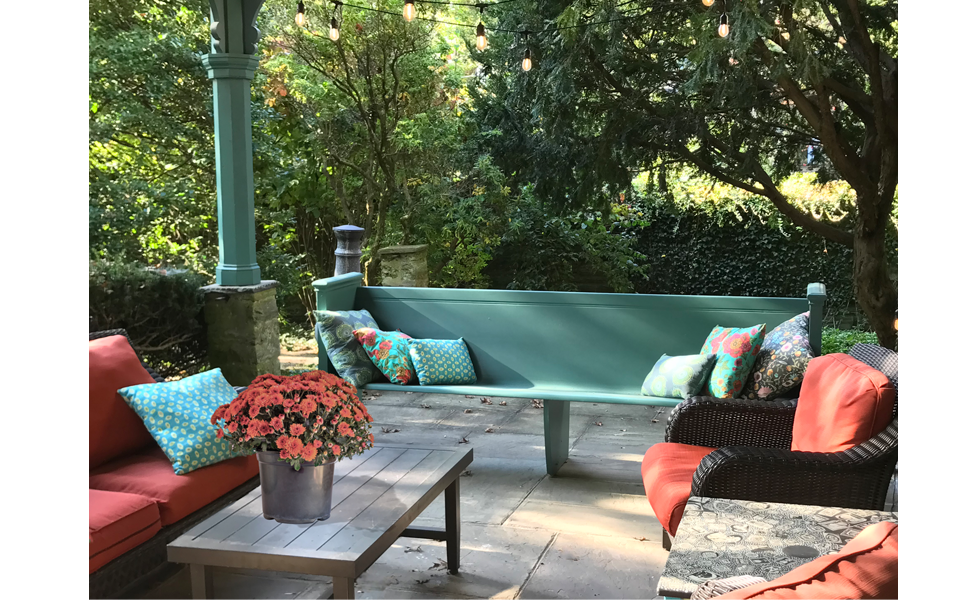 Though we recognize that we're all still living with the presence of Covid-19, we now have a mask-optional approach for house concert attendees as well as for our performers.We're assuming that at this point we're all doing what each of us needs to do to be safe and feel comfortable—so we assume you're fully vaccinated and that you'll opt to wear a mask to protect yourself and others if it should be necessary.And of course if you feel at all unwell, please stay home—we'll see you next time!Our audience capacity is 35 seats in a space about 20 by 40 feet—chairs will be spaced accordingly.
Text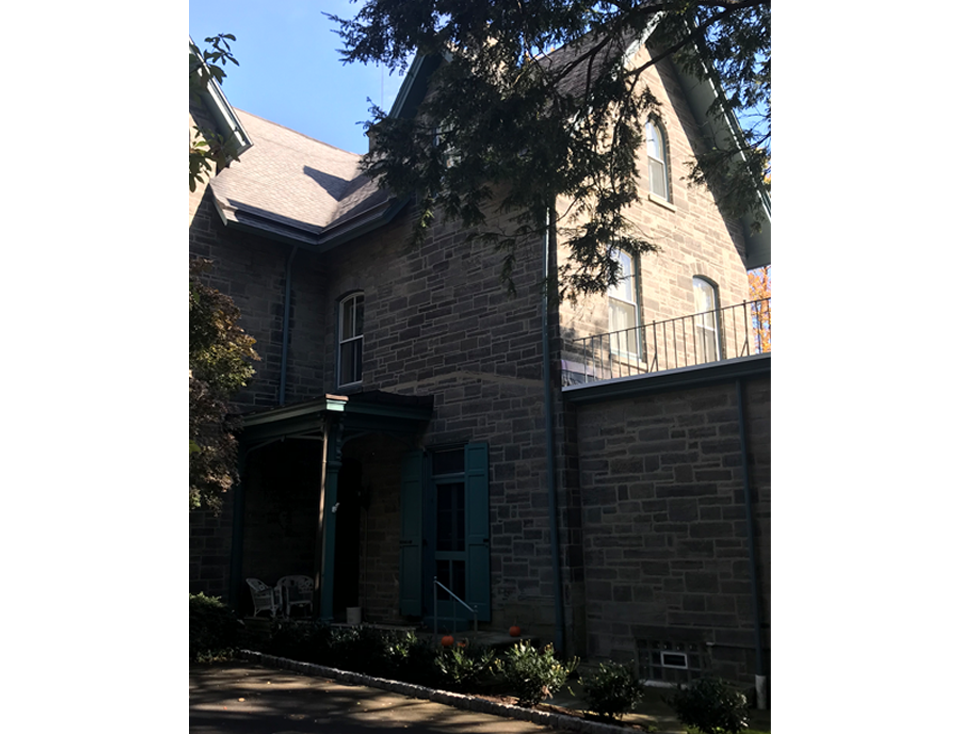 WHERE
Corner House Concerts lives at 491 East Gravers Lane, in the Chestnut Hill neighborhood of northwest Philadelphia. We are on the corner (yep) of East Gravers and Prospect Avenue. Remember it's EAST. (If you find yourself at 491 West, you will most likely not find a house concert going on there.)The entrance to our house is on Prospect Avenue.PARK
There's limited parking on Prospect Avenue; go ahead and ignore the "no parking" signs—literally everyone does, and it's never been an issue.There's also street parking on Gravers Lane and Crittenden Street (a side street just a half block away), and also in the lot at the Gravers Lane train station, just a bit over a block away.TRANSIT
The Gravers Lane stop of the East Chestnut Hill train line is just over a block away. The terminus of the West Chestnut Hill line is about a ten-minute walk.Looking forward to sharing the excellent experience of live music with you!—Rebecca & David

SATURDAY OCTOBER 22 2022
Stevie and the BluecastersWe were all mighty satisfied with these excellent blues tunes...
---
SUNDAY SEPTEMBER 11 2022
Jocelyn Pettit and Ellen GiraFeaturing fine fiddling, swell cello, fancy stepdancing...
---
SUNDAY APRIL 3 2022
MAGGIE'S BOOTS
Hollis Payer, Rob Curto, Melissa BrunFine and fancy, deft and delightful!
---
SUNDAY MARCH 13 2022
JULIE SNYDER, soprano & JOANNA GATES, mezzo-soprano: LE TOMBEAU DES NAÏADES
with CATHY MAZZA, collaborative pianistSuch gorgeousness uplifted by these two exquisite and expressive voices...
---
SATURDAY FEBRUARY 26 2022
VICENTE CASTAÑEDA, ROB SANDERS & BUCK BUCHANAN A night of warmth & magic...
---
SATURDAY DECEMBER 18 2021
ANIKA KILDEGAARD, TIANA SORENSON, ELISA SUTHERLAND: EVENING MORNING DAYTranscendant voices intertwining...
---
SATURDAY NOVEMBER 20 2021
THE SATURDAYS: Dave Arms, Buck Buchanan, Rich NourieSuch great tunes from these amazing players....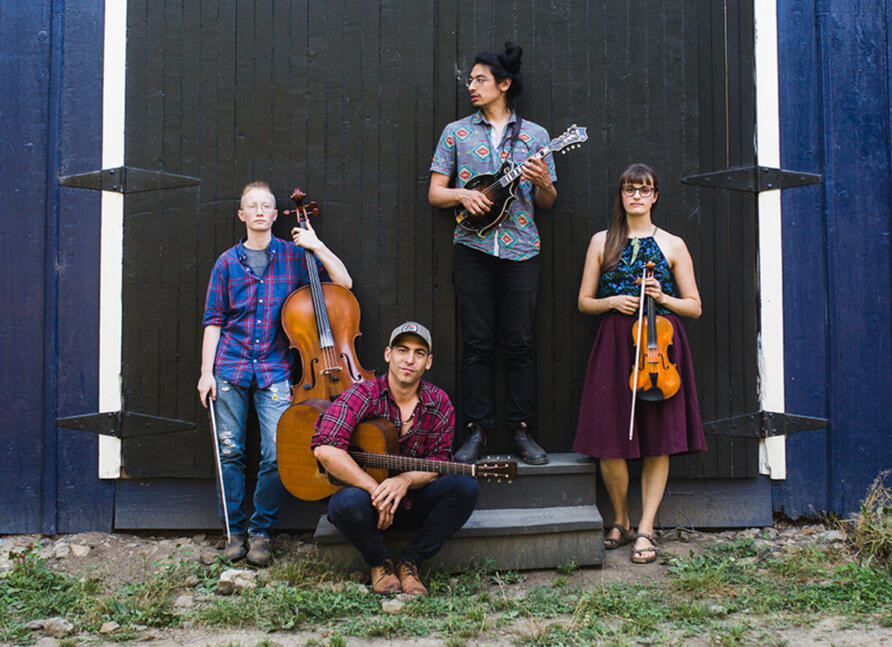 SATURDAY, FEBRUARY 11 | CORNER HOUSE
7p doors open | 7:30p music
Corner House takes its name from their shared home in Brighton, Massachusetts where the musicians met as students at Berklee College of Music. Emerging from varied genre backgrounds, the quartet's strength is a desire to learn from one another, not only in musical skill and style, but in life experience. On their debut full-length album How Beautiful It's Been, the band reveals the sublime result of that growth mindset, with a singular sound that incorporates old time, Scottish, progressive bluegrass, and folk.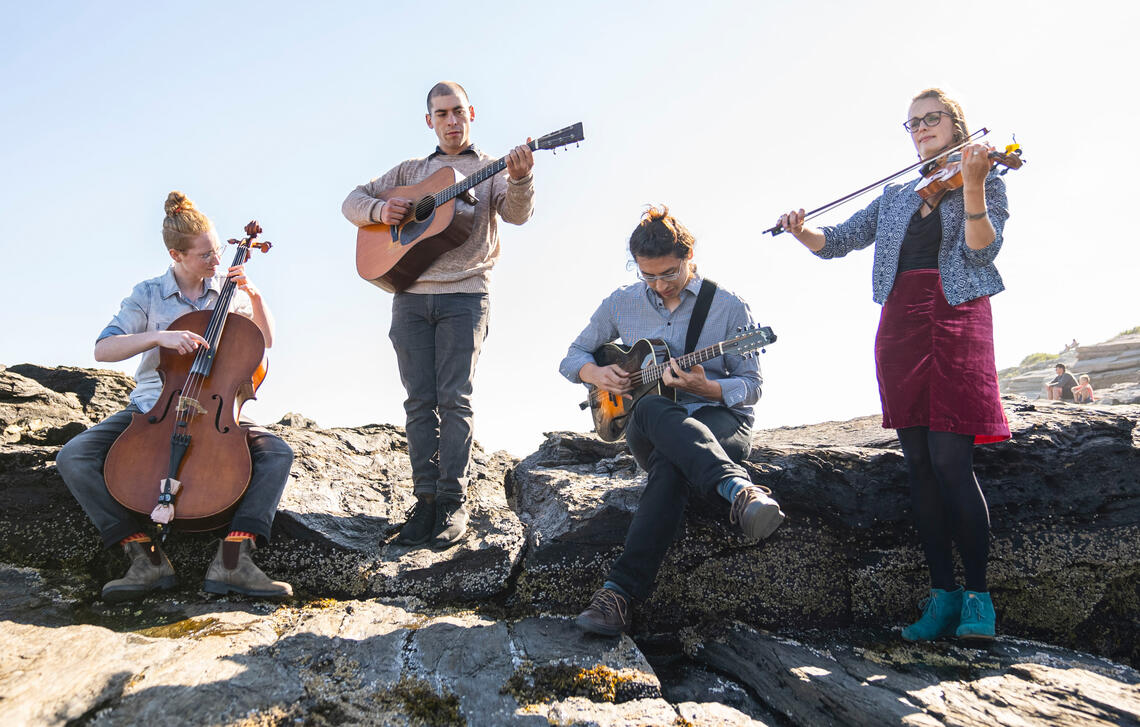 Originally made up of songwriter and guitarist Ethan Hawkins, Scottish fiddle player Louise Bichan, and bluegrass mandolinist Ethan Setiawan, Corner House are students of a wide variety of musical traditions. In the autumn of 2017, the group debuted at FreshGrass Festival in North Adams, Massachusetts before recording a self-titled EP and touring Scotland the following year. Returning from overseas, the three invited illustrious cellist Casey Murray to join the fold, unveiling the new line up on a second EP, Smart Folks, released in 2019.
Mutually inspired, learning from one another, and open to all ideas, Corner House embraces diversity in every aspect of their music making. Listen closely, and learn from them as much as they have from one another.learn more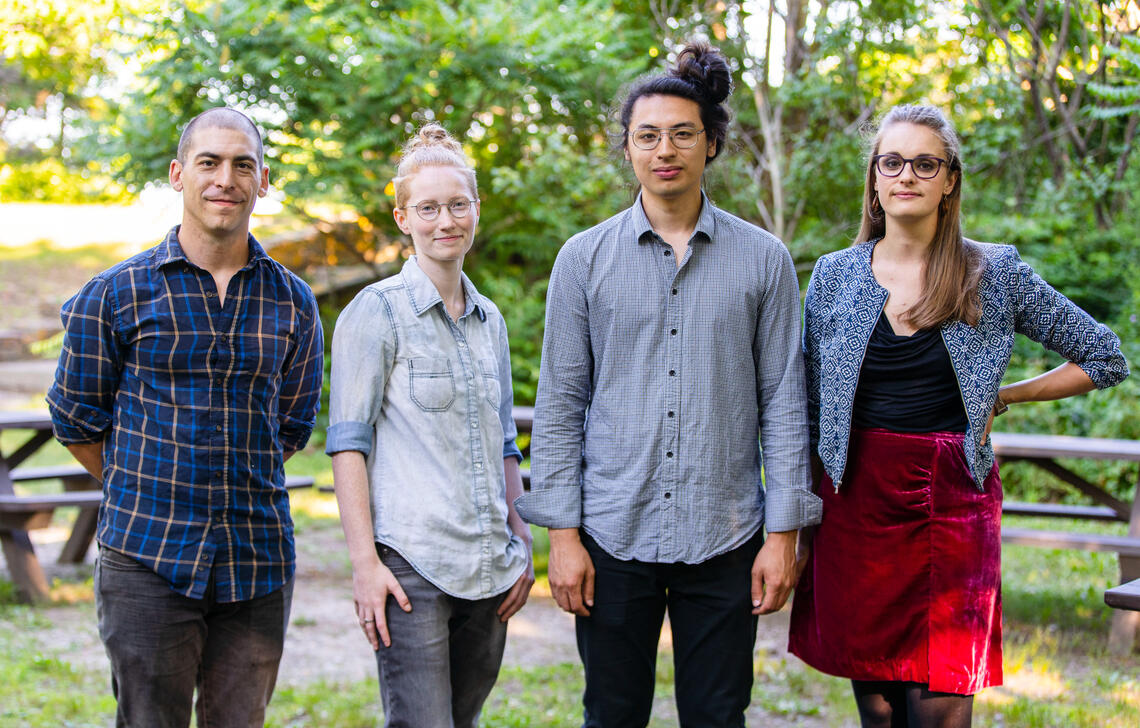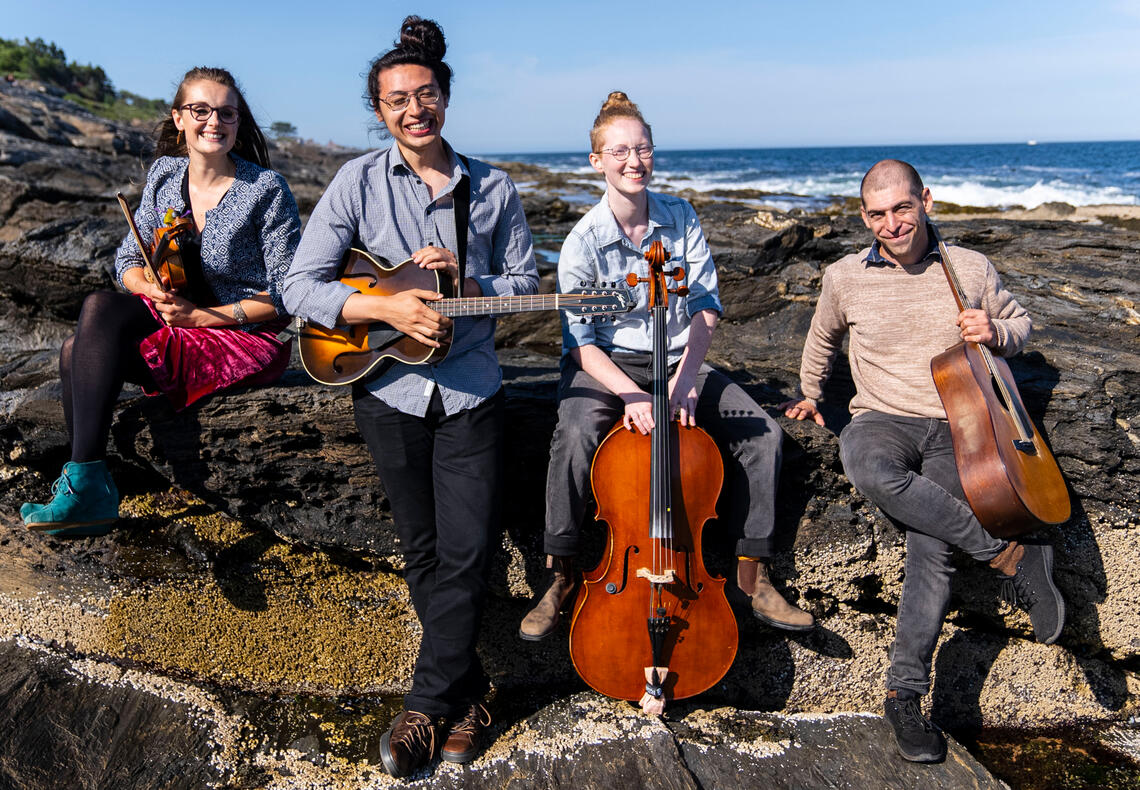 Text
Text
Text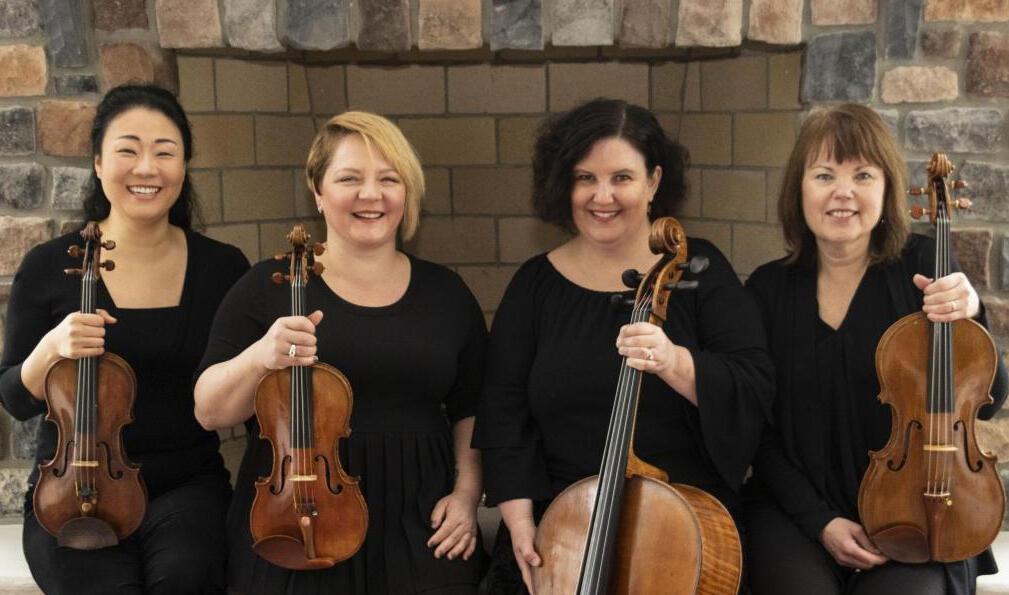 Text
SATURDAY, JANUARY 21 | THE FAIRMOUNT STRING QUARTET
7 pm doors | 7:30 pm show
The Fairmount String Quartet brings a mix of classical, pop, folk, and Latin-flavor music — curated just for us at Corner House Concerts!Described as "likable and warmhearted" by the Philadelphia Inquirer, and "expert to the point of perfection" by the Chestnut Hill Local, the Fairmount String Quartet — Rachel Segal and Leah Kyoungwoon Kim, violins; Beth Dzwil, viola; Mimi Morris Kim, cello — has been active in the Philadelphia chamber music scene since 1984.The Fairmount String Quartet is dedicated to bringing the intimacy and vitality of chamber music to diverse audiences, and accessibility and education are core parts of their mission. They are committed to performing works of historically under-performed composers in addition to those in the standard repertoire. They are the ensemble-in-residence at the Church of St. Martin-in-the-Fields in Philadelphia.Though classically trained, the musicians of the Fairmount String Quartet are fascinated by many genres of music. Their debut pop album Spoken with Strings is available on all major streaming platforms. Scheduled to release on February 3rd, their second album Unleashed features classical music by women composers.Check out selections from Spoken with Strings and more!
Text
Text
Text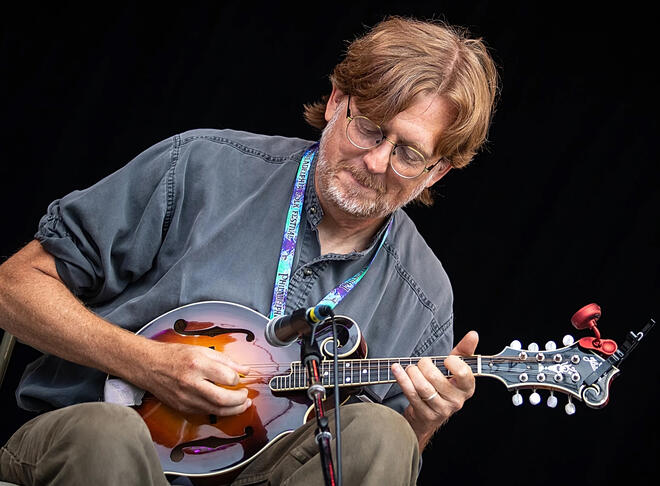 Text
Text
Text
Text
Text
"A gifted songwriter and fine musician," (Sing Out Magazine) Russ Rentler is a gifted singer-songwriter and multi-instrumentalist, performing original and traditional tunes on guitar, banjo, mandolin, bouzouki, autoharp, dobro, hammered and Appalachian dulcimers (some he's built himself).His songs pair dazzling instrumental virtosity with his own brand of wry humor.Russ has been playing music ever since fifth grade, when he saved enough S&H green stamps to get himself a ukulele.At an open mic on his first night at Moravian College, Russ ran into a dude by the name of John Gorka—the result of this auspicious meeting was the Razzy Dazzy Spasm Band which, with Richard Shindell and Doug Andersen, performed regularly in the Lehigh Valley, including at the legendary Godrey Daniels club.Russ kept on playing through medical school and a career as a doctor. He contributed to Gorka's CD Gypsy Life, and has recorded six albums of his own—the two most recent achieving top air play on folk radio.Retiring from medical practice a few years back gave Russ more time to perform his mix of folk, Celtic, and blues-inspired tunes—always interspersed with his trademark off-beat humor and wry commentary.Don't miss the mastery and magic of Russ Rentler's music!more about Russhear this amazing and versatile musician/singer-songwriter live at The Minstrel Coffeehouse
Text
Text
Text
Text
Text
Text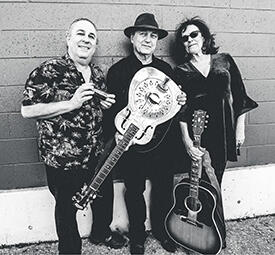 Text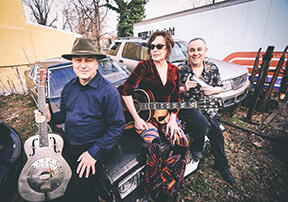 Text
Text
Text
Text
A Philadelphia acoustic blues and roots trio, Stevie and the Bluescasters play unique arrangements of all kinds of blues (Chicago, Delta, Piedmont, folk, country) mixed with some international styles, some old gospel and old country, with a pinch of R&B thrown into the mix. With Seth Holzman on harmonica, Paul Nolan on guitars, mandolin, and vocals, and Stevie Nolan on lead vocals and rhythm guitar.
Text
Few but mighty, Stevie and the Bluescasters demonstrate without a doubt that there IS such a thing as an intimate powerhouse! Just (but not merely!) a trio, their brand of deep-fried acoustic blues will rock your soul. From Stevie Nolan's gutsy-yet-sweet vocalizing to her backdoor man Paul Nolan's inventive, driving guitar to Seth Holzman's spine-tingling harmonica (both unamplified and green-bulleted), this is a blues band with a no-nonsense take-no-prisoners craftsmanship and bone-deep conviction. Whatever your ills, the Bluescasters are your miracle cure. Wellness is just a Wild-Ox Moan away!
—Rusty Cloud (keyboards) Blues Brothers Blues Band, Southside Johnny and the Asbury Jukes
Text
Text
Text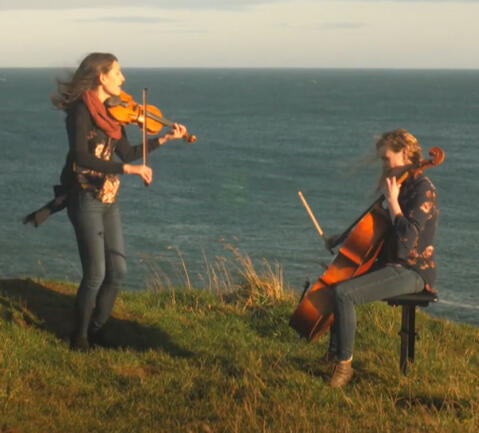 Text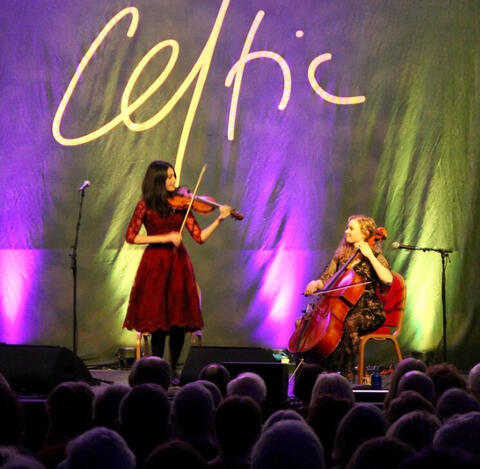 Text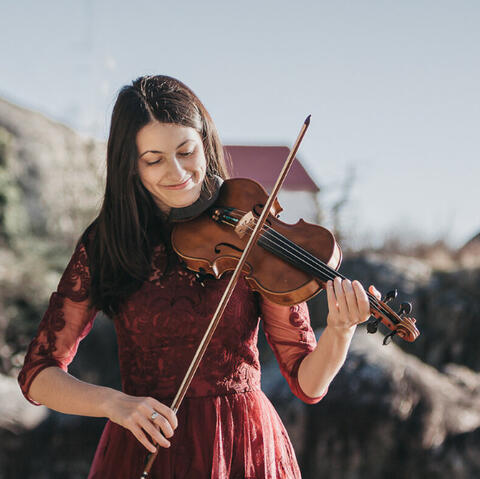 Text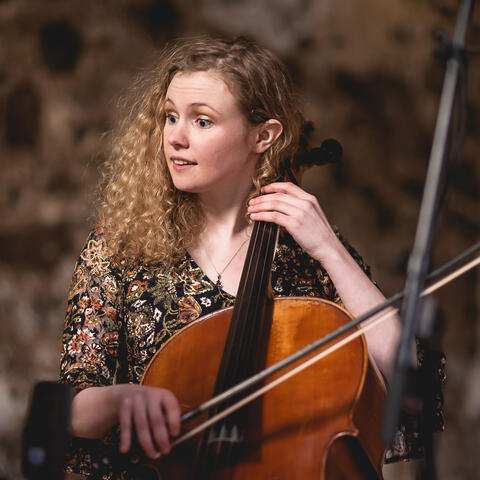 Text
Text
Text
SUNDAY, SEPTEMBER 11 2022 | Jocelyn Pettit & Ellen Gira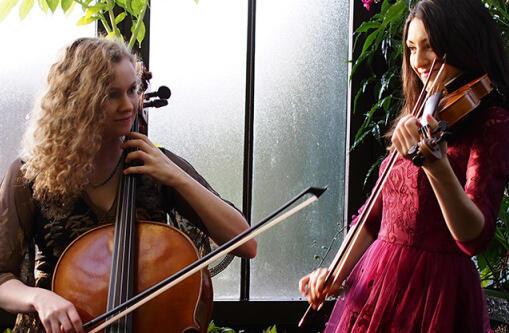 From Canada and the US, Jocelyn Pettit & Ellen Gira are a dynamic fiddle and cello duo. First meeting in Scotland in 2018, they joined their musical forces, and have since been gracing stages and captivating audiences in both North America and the UK.Fusing together traditional and contemporary influences, Jocelyn & Ellen create powerfully uplifting and soulful music. Their instruments weave a rhythmically driving and textured sound, with nuanced fiddle-cello interplay through delicate and fortissimo arrangements. They bring life and fire into their own original melodies, and high-energy tunes from Scotland, Ireland, North America, and Scandinavia—complimented by interwoven vocal harmonies and lively stepdancing.Performance highlights include Celtic Connections (UK), Niel Gow Festival (UK), Edinburgh Castle (UK), Harrison Festival of the Arts (CAN), Northwest Folklife Festival (USA), and Folk Alliance International (USA). They have also performed for HRH Prince Charles, and live broadcasts on BBC Radio 3. Their debut duo album, All It Brings, was released in July 2022.Totally fantastic way to start our second season!save your seat now!Here's the duo performing An Síoda (I Ne'er Shall Wean Her)
---
Super excited to present this amazing fiddle/cello duo with their high-energy traditional tunes and songs, with vocal harmonies, lively stepdancing, and Québécois foot percussion.
Fleur Reels—Jocelyn Pettit & Ellen Gira, with Adam Dobres
---
SUNDAY, APRIL 3 | MAGGIE'S BOOTS, with Hollis Payer, Rob Curto & Melissa Brun
Traditional Irish tunes and original music, all with a unique groove!Together since 2018, this Philadelphia-based band features Hollis Payer on fiddle, Rob Curto on button accordion and Melissa Brun on cello.Check out their terrific music here and here and here.Find Maggie's Boots at home, and on Facebook.Save your seat! (we need to have your registration in advance—thanks!)
---
SUNDAY, MARCH 13 | JULIE SNYDER, soprano & JOANNA GATES, mezzo-soprano: LE TOMBEAU DES NAÏADES
with CATHY MAZZA, collaborative pianist
Inspired by Claude Debussy's Le tombeau des naïades from Chansons de Bilitis.The text, taken from a set of poems by Pierre Louys, tells the story of a search in wintertime for the naïads and nymphs in the woods—then, after the despair of learning they are dead, of moving forward to find consolation and hope.The artists chose this poem because it seems to describe how we have functioned in the world in the past few yearsthat—in spite of our search for magic and the despair of not finding it—we are ever hopeful.LE TOMBEAU DES NAÏADESWinter
Fiocca la neve — Pierrot Cimara
Diamonds in the Snow — Jean Sibelius
L'hiver — Charles Koechlin
Must the Winter come so soon? (from Vanessa) — Samuel BarberSearching
Erstarrung (from Winterreise) — Franz Schubert
Where Has Summer Gone? — Ben Moore
Into the night — Clara EdwardsDeath of Magic and Despair
In My Dreams (from Anastasia) — Flaherty/AhrensSleep Is Supposed To Be — Aaron Copland
Ich bin der Welt abhanden gekommen — Gustav Mahler
Almost Real (from The Bridges of Madison County) — Jason Robert BrownContemplation
Back To Before (from Ragtime) — Flaherty/AhrensThat shadow, my likeness — Ned Rorem
Clair de lune — Claude Debussy
Sunset — John ConahanHope
Espoir — Cécile ChaminadeVåren — Edvard Grieg
When They Come Back — Aaron Copland
No One Is Alone (from Into the Woods) — Stephen Sondheim
ABOUT THE ARTISTSSoprano Julie Snyder excels as an educator, performer, and scholar. As an educator, Dr. Snyder owns and operates Snyder School of Singing in Erdenheim, which offers private voice lessons and voice classes to students of all ages and ability levels. Previously, she served on the adjunct faculty of the Boyer College of Music and Dance at Temple University for seventeen years, and taught private voice (classical and musical theater), class voice, vocal repertoire, music theory, and vocal diction. During that time, she also served as an accompanist and advisor for several courses in the musical theater program. Dr. Snyder has also created and led camps, courses, and workshops for students of all ages at Wyoming Seminary, The Center on the Hill, Abington High School, Parkland High School, Old Pine Presbyterian Church, The Presbyterian Church of Chestnut Hill, Pennsylvania Youth Orchestra, The Valley Players of Ligonier, and Actors and Artists of Fayette County. Additionally, Dr. Snyder is a professional-level pianist, vocal coach, and diction coach. Her students have been accepted into top undergraduate, graduate, and Young Artist programs, and have appeared professionally on Broadway, in regional theater and national tours, and with top opera houses and choral ensembles throughout the country.As a performer, Dr. Snyder is equally at home in choral, opera, operetta, musical theater, and recital settings, and has appeared with The New York Philharmonic, Opera Philadelphia, The Westmoreland Symphony Orchestra, Variant 6, The Gilbert and Sullivan Society of Chester County, The Philadelphia Gilbert and Sullivan Union, Opera Libera, The Delaware Valley Opera Company, Sarah Brightman in Concert, and The Centre Theater. She currently serves as section leader, soloist, and children's choir director at The Presbyterian Church of Chestnut Hill and recently completed a five-year tenure as a core member of The Crossing.Dr. Snyder's research in the field of Swedish vocal diction and Swedish art song has been utilized by singers and vocal scholars worldwide. She is also sought as an authority on topics pertaining musical theater pedagogy and repertoire. Dr. Snyder holds a Bachelor of Music degree in voice performance (summa cum laude) from Susquehanna University, and Master of Music and Doctor of Musical Arts degrees in voice performance from Temple University. Originally from Latrobe, Pennsylvania, she now resides in Erdenheim with her two children, Wesley and Natalie.
traditions.Joanna Gates, mezzo-soprano, is an accomplished solo and ensemble singer and teacher who performs a wide range of vocal repertoire. Joanna has been praised for her "dazzling, florid technique and eloquent phrasing" on the operatic stage and in the concert hall. Recent solo performances include: Leucosia in the world premiere and recording of The Wake World by David Herzberg with Opera Philadelphia and Hansel in Hansel and Gretel with Opera Box. Other notable roles include the title role in Rossini's Cinderella, Dido in Dido and Aeneas with Opera Box, Berta in Il barbiere di Siviglia and Zita in Gianni Schicchi. In concert Ms. Gates has been a mezzo-soprano soloist in the Verdi Requiem, the Duruflé Requiem, Messiah, Mozart's Mass in C minor, Mendelssohn's Elijah and has performed in recitals and chamber ensembles throughout the region.
Joanna is a core member of The Crossing, the two time Grammy award-winning vocal ensemble, fully dedicated to the performance of new music. She has recorded over 20 albums with The Crossing. Joanna can be seen performing in the area with Opera Company of Philadelphia, Opera Box, The Mastersingers of Wilmington, and The Presbyterian Church of Chestnut Hill. Joanna lives in Delaware with her husband and son and teaches voice and violin lessons at Sanford School.
Get on the waiting list for Mike Albrecht & The Keltones Saturday, March 25 —
let us know how many seats you want!